Valuation Webinars
Sageworks Valuation Solution provides free webinars to equip valuation professionals with best practices in creating and growing firm revenue through marketing, technology, sales techniques and more. Archived webinars are also available for on-demand viewing.
Calculation v. Valuation How Each Fits in Your Practice
Presenter: James Alerding, CPA/ABV, ASA
Are you being pressured by attorneys and clients to prepare low cost estimates of value? How comfortable do you feel going into court having prepared a calculation when the other side may have prepared a full valuation? Will your client pay you if your estimate of value does not meet the sufficient, reliable, believable and "with reasonable certainty" tests? This Webinar will bring you up to date on the current thinking related to calculations and their place in your practice.
DLOM Myth Busters: Things You Wanted to Know But Were Hesitating To Ask
Presenter: Ashok Abbott, Ph.D, MBA, Associate Professor of Finance, West Virginia University
DLOM is evolving from the blunt 35% discount to surgeon-like precision. Are you ready to identify and apply appropriate discounts fitting the facts of the case? This webinar will begin with the mother model (Margrabe Exchange Option) for all option models based on techniques (Chaffe, Longstaff, Finnerty), catalog the underlying similarities and differences, and finish by identifying appropriate models for specific situations.
-demand viewing.
Common Pitfalls in Business Valuation
Presenter: Gary Trugman CPA/ABV, MCBA, ASA, MVS, President, TRUGMAN VALUATION ASSOCIATES, INC.
Whether you are brand new to valuation or looking to improve your practice, this webinar offers practical tips to providing high quality services. The presenter will discuss common mistakes made in business valuation and strategies for avoiding them. Explore ways to scale a valuation practice profitably.
How Valuation Specialists Avoid Professional Liability Claims
Presenter: John Raspante, CPA, Director of Risk Management, NAPLIA
In this webinar John Raspante will discuss the most common professional liability claims faced by valuaion specialists. Additionally, John will provide best practices to mitigate these exposures.
How to Help Your Client Leave a Business on Their Terms
Presenter: Tim McDaniel, Principal, Director of Business Valuations, REA Associates
This webinar will provide a brief overview of the various ways a business owner can leave their business and how you can assist them in developing and executing on an exit strategy that will reward them for all their blood, sweat and tears over the years.
Teaching Your Clients to Treat their Business like an Investment
Presenter: Tim McDaniel, CPA/ABV, ASA, CBA
Typically, 60–80% of a business owner's wealth is tied up in the value of the business. This is their most important asset, but they usually guess at its value and have no concrete plan to increase it. In this webinar you will learn how to assist your clients in treating their business like an investment and how this will benefit your valuation practice with recurring revenues and additional consulting opportunities.
Narrative and Numbers: A Guide to Disciplined Story Telling and Imaginative Number Crunching
Presenter: Aswath Damodaran, MBA, Ph.D, Stern School of Business, NYU
The world of valuation is divided into two camps. In one, you have the number crunchers, who believe that the only things that matter are the numbers and that imagination/creativity are dangerous distractions. In the other, you have the story tellers, who build on the stories they tell about companies and how these stories will bring untold wealth.
How to Improve Client Success Through Communication and Firm Efficiency
Presenter: Mike McCaffery, Enterprise Account Director, Sageworks
Starting with research on industry trends, this webinar shared client management techniques that help with partner level management of meeting preparation, client report discussion and common pitfalls. In this webinar, you'll hear how valuation practices can become more efficient through process improvement and other tactics.
The Bermuda Triangle of Valuation: Bias, Uncertainty and Complexity
Presenter: Aswath Damodaran, MBA, Ph.D, Stern School of Business, NYU
Valuation industry thought leader and NYU Stern School of Business Professor of Finance Aswath Damodaran explored three major issues that contribute to inaccurate valuations. In public and private business valuation, many factors can affect the final value. Valuation professionals must be careful not to fall into misconceptions and inconsistencies that can significantly alter the outcome of their work. Watch a thought-provoking webinar about bias, uncertainty and complexity in business valuation.
Avoiding Bad Decisions in Business Valuation: Pitfalls and Solutions
Presenter: Erik Kobayashi-Solomon, Founder, Intelligent Option Investor
Mitigating risk is essential to accurate business valuations. Yet, human thought processes are easily swamped, leading to simple errors that can have big, negative business impacts. Today, people process more data than ever before, so human error is prevalent.
Valuation's Orphan: Analysis You Haven't Considered in Business Valuation
Presenter: Darrell D. Dorrell, CPA/ABV, MBA, ASA, CVA, CMA
Technical literature and CPE are replete with required rate of return and secondary adjustments guidance. Nonetheless, economic benefit stream guidance is scant and shallow, thus its "orphan" designation. The derivation of an economic benefit stream is a forward-looking concept, which can be derived through a wide variety of quantitative and qualitative forecasting techniques. It is essential to all valuations and related matters, e.g. damages. Nonetheless, one is hard-pressed to find substantive guidance for constructing an economic benefit stream.
What Happens Next? New Themes in a Diversifying Valuation Industry
Presenter: Aaron Whitener, Account Director, Sageworks
Shifts in the valuation industry are creating increased competition and a greater need for diversification. This webinar explores observed shifts in the perceived value of valuations as clients seek inexpensive alternatives and valuation practices use strategies like diversification to justify the cost of a business valuation.
Everyday Technology for Everyday Challenges: Free or Low-cost Tech Solutions to Help Grow Your Firm
Presenter: Nick Lowenstein, Director, Accounting Division, Sageworks
Accounting and valuation firms require digital technology to power their websites, marketing efforts, customer surveys, meetings, and more. From social media management to online surveys, learn about the latest and greatest digital solutions for your business. Technology can be a time-saving, revenue-boosting tool, so long as it's the right technology solution, used correctly. As a technology company, Sageworks' tech-savvy employees use the latest in online tools every day to facilitate business efficiency.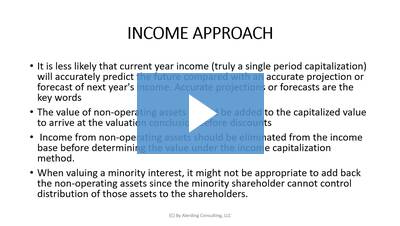 Traps and Lessons in Navigating the Three Approaches to Value
Presenter: James Alerding, CPA/ABV, ASA, CVA, Owner Alerding Consulting LLC
We all know the three approaches to value, and we know that all of the three must be considered in performing a valuation of an interest in a business. But do we know when and how and why to use each one? This webinar will introduce the business valuation professional to some of the considerations and uses of each of the three approaches and how to avoid the pitfalls accompanying each.
Keys to the Never Ending Search for Reasonable Valuation Compensation
Presenter: Kevin Yeanoplos CPA/ABV/CFF, ASA, Director of Valuation Services, Brueggeman and Johnson Yeanoplos, P.C.
Beauty as they say, is in the eye of the beholder…which explains why trying to understand the seemingly straightforward definition of "reasonable compensation" sends many valuation analysts scurrying for the Pepto Bismol. While valuation experts may disagree as to exactly what reasonable compensation is, there is no argument that it is often the most important variable in business valuations and litigation engagements.
Helping Clients Overcome 5 Pitfalls of Business Transfers
Presenter: Jarad Johnson, CEO of Buiness Enterprise Institute
Helping business owners transfer what is likely to be their biggest asset is an incredibly important task. As owners face an exit of their business, it's important to make them aware of the issues they will encounter so that they exit successfully. CPAs, consultants and other business advisors are in a unique position to help a business owner maximize the opportunity for exit over many years. As exit planning services increase in demand, this valuable skill set can help firms compete for new clients and generate additional revenue from existing clients. Join Jared Johonson as he discusses key areas where business owners often fail to create transferable value.
The Five Stages of Value: How to Maximize Business Value & Unlock Trapped Wealth
Presenter: Chris Snider, President, Exit Planning Institute
The Five Stages of Value Maturity, within the Value Acceleration Methodology™, can be managed to successfully (and rapidly) grow business value and the strength of "knowledge capital." In this session, Chris Snider will teach you how to measure progress within the stages of value to optimal results and how adopting the Value Maturity Index can help an owner understand the impact their actions have on their business value goals. This broadcast is ideal for advisors, valuation analysts, or business consultants who work with business owners (and owners themselves).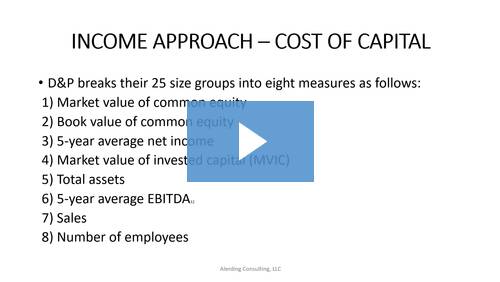 Common Errors (and Sometimes Rigging) in Valuations
Presenter: Jim Alerding, CPA/ABV, ASA, CVA, CEO, Alerding Consulting LLC
Presentation Date: Wednesday, July 12th – 3 p.m. to 4 p.m. ET
You pick up the valuation report prepared by the Valuation Analyst representing the other side of a dispute. You are aghast at the magnitude of the difference between your valuation and the other valuation. Where did the other valuator go wrong? Or where did you go wrong? This webinar will discuss some of the common errors (and sometimes rigging) made in the process of determining a valuation conclusion so that you can be on the lookout for why.
How to Accurately Value a Small Business
Presenter: Pasquale Rafanelli, CPA/ABV, ASA, CVA, CBA, CFE, MAFF, Valuation Manager, Grassi & Co.
This webinar will discuss the valuation process in general, and specifically in valuing a small business. We will then discuss common valuation mistakes and key engagement considerations one should consider before taking on the engagement – concluding with a mini case study.